Millions of Muslims perform Hajj every year, and whilst the experience may leave footprints on their hearts, environmentalists are concerned with the carbon footprint of the pilgrimage.
As the fifth pillar of Islam, Hajj can have a massive impact on the lives of Muslims, and many save up their whole lives to go on the trip.

Many pilgrims are unaware of the environmental effects of their trip, and this is emphasised by the numerous buses churning out carbon emissions and the 100 million plastic bottles left around the holy sites.

The Qur'an tells us, "Greater indeed than the creation of man is the creation of the heavens and the earth," (40:57) and we must respect and revere the world we live in.

The underlying concept of the Hajj is to make a sacrifice and purify the self; many people see it as a chance to turn a new leaf. What better environment to start a sustainable, eco-friendly lifestyle than a 'green Hajj'?

Initiatives to help combat the environmental effects include banning plastic bottles, printing copies of the Qur'an on recycled paper, and promoting awareness of environmentalism in Islamic teachings.

The Ministry of Hajj is also looking to the future and has drawn up plans to make mosques eco-friendly and powered by solar energy.

In addition, the Haramain High Speed Rail Project will run between Makkah, Madinah and Jeddah, and is expected to be completed by 2012. There is also the Mashair Railway, known as the 'Makkah Metro', which will link Mina, Arafat, and Muzdalifa with Makkah, and is undergoing test runs before opening for this Hajj.

These plans make up a wider shift in the Muslim mentality towards eco-friendly projects. The Muslim Seven Year Action Plan on Climate Change was drawn up in November 2009 to serve as the foundation for environmental campaigns based on Islamic teachings. Madinah will serve as a 'model green city', and there are plans to launch the Muslim Association for Climate Change Action (MACCA).

These policies are a step forward towards the fully-fledged 'green Hajj', and we hope that the eco-friendly thinking can spill over into all spheres of Muslim lives. However, we must acknowledge that responsibility falls on the individual as well as the institutions.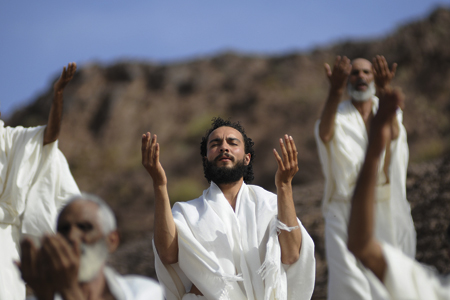 Hajj through the Screen
Hajj is a journey known for its physical demands, but there have been attempts to portray it through other interactive channels.

Journey to Mecca
This award-winning IMAX documentary, narrated by Sir Ben Kingsley, tells the tale of Ibn Battuta's travels from Tangier to Makkah for his first Hajj.
By portraying the peaceful values and extraordinary history of the Hajj, the producers wanted to promote a better understanding of Islam and foster a sense of pride amongst the Muslim community.
"The footage we filmed of the tawaf in which we can see a million people on the screen at one time – these are shots that are worth spending a lifetime working to document, let alone two years," says Taran Davies, producer.
It took the crew two years to acquire the filming permits, and over 2000 people from 24 countries worked on
the film.

Second Life
A 'Virtual Hajj' has been developed in Second Life, the popular online platform, where users can 'walk'
their avatars around Makkah and surrounding sites.
The purpose of the programme is to educate Muslims about the procedures of the pilgrimage, and it also allows wider society to have a virtual presence.
"If the Virtual Hajj acts as an inspiration for someone to make the pilgrimage, or to learn about Islam, or if it simply teaches a virtual pilgrim about the Hajj, then it has been worth the effort," states Ruuh Cassini, developer of Virtual Hajj.
Users can pick up a virtual garment, bag and tent, and can even find pebbles to throw at virtual devils. In the past, the creators have offered virtual tours to inform visitors of the significance of each site and the related rituals.

Photo Credits - Abdullah Almaosharji, Cosmic Picture